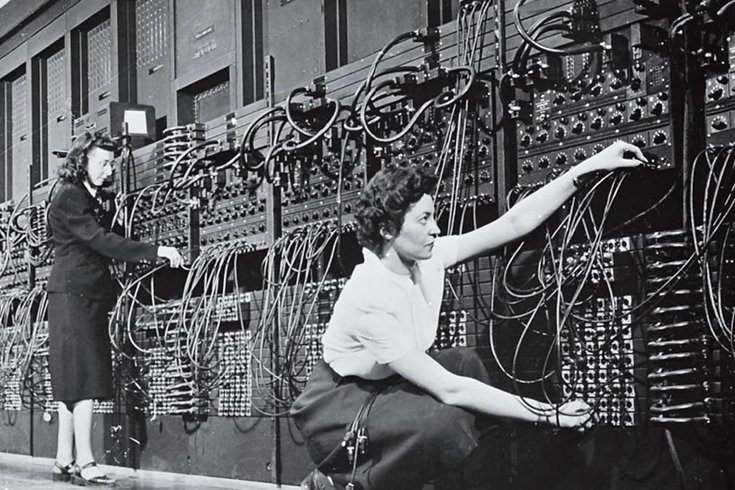 Source: phillyvoice.com
By now, you may have heard about the ENIAC six, the forgotten female mathematicians who pioneered computer programming. This important story recently made the rounds on social media.
It is an excellent example of how a story goes viral, and then becomes part of an ongoing conversation, filling us in on important history that might have otherwise gone unnoticed. Because of social media, this once-unknown story has been retold and repurposed again and again as part of a larger conversation we're having about women in science and technology.
Telling a new story
According to storyteller and entrepreneur Jonah Sachs, author of "Winning the Story Wars," the stories we tell shape our world. Stories are part of our cultural DNA, and they have the power to shape the future. In the case of the ENIAC six, the story acts to correct the historic record by acknowledging the early geniuses whose gender prevented them from getting the credit they so deserved.
The women—Betty Jean Jennings Bartik, Kathleen McNulty Mauchly Antonelli, Ruth Lichterman Teitelbaum, Frances Bilas Spence, Marlyn Wescoff Meltzer, and Betty Snyder Holberton—were recruited in 1945 by the U.S. military to program the first electronic general-purpose computer, ENIAC, which was used to solve complicated math problems, including calculating artillery trajectories and performing the math to design and build the hydrogen bomb.
Programming ENIAC was grueling work. There were no "programming tools, programming languages, or operating systems, so the ENIAC Six had to physically connect the units using cables and turn switches to make the appropriate settings." No one had ever done this type of work before.
But when ENIAC was announced to the public on February 14, 1946, only the names of the men involved in the project were listed. The women weren't mentioned. They weren't even invited to the celebratory dinner.
The names—and the historic contribution—of these women were discovered in 1986 by a Harvard undergraduate student, Kathy Kleiman, and a new story was born. The ENIAC six were eventually inducted into the Women in Technology International Hall of Fame, and Kleiman later went on to co-produce and co-write a documentary about the women, called "The Computers," which was released in 2014.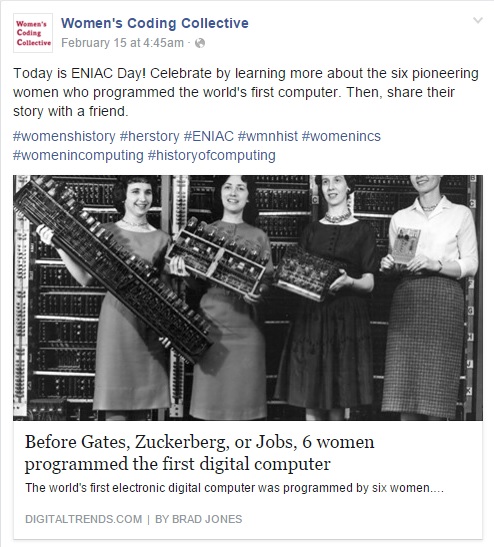 Source: digitaltrends.com
"Part of what motivated her to tell the story of the ENIAC programmers was the desire to help young women learn about what she described as the 'marvelous women in science and technology who did things that shaped and created the world that we live in, and we've never heard of them.'"
Today, thanks to social media, the heroic story of the ENIAC six is becoming more widely known, illustrating that computer programming is for girls, and that women have a rightful place in the annals of computer history and, more importantly, the future of technology. It's the kind of story that recognizes the important contributions about women in technology that heretofore have gone unrecognized. In doing so, it also shines light on the opportunity (and necessity!) we all have to tell stories about things that matter—stories that wouldn't be told if we didn't tell them.
Our role as storytellers
The daily news is filled with discouraging and frustrating news about women in science and tech and the challenges of achieving diversity in the still male-dominated business world.
As active participants in local and global conversations that are taking place on social media, we have a chance to create and to respond to new stories. And the stories can be powerful, even life-changing. As Jonah Sachs would say, we are shaping the future with these long-neglected stories. How many more stories are out there that we haven't heard yet, that we will stumble upon in our Facebook feed, or in a tweet or an email forwarded by a friend?
In the beginning, humans sat around the campfire and told the stories: stories of struggle, survival, of making a way in a difficult world. The stories that succeeded were simple and universal, they had heroes and a moral, and over time, they became myths. And these myths became accepted wisdom that shaped the way we see the world and our role in it.
Social media and the storytelling it enables have brought us back to a time when telling our stories matters more than ever.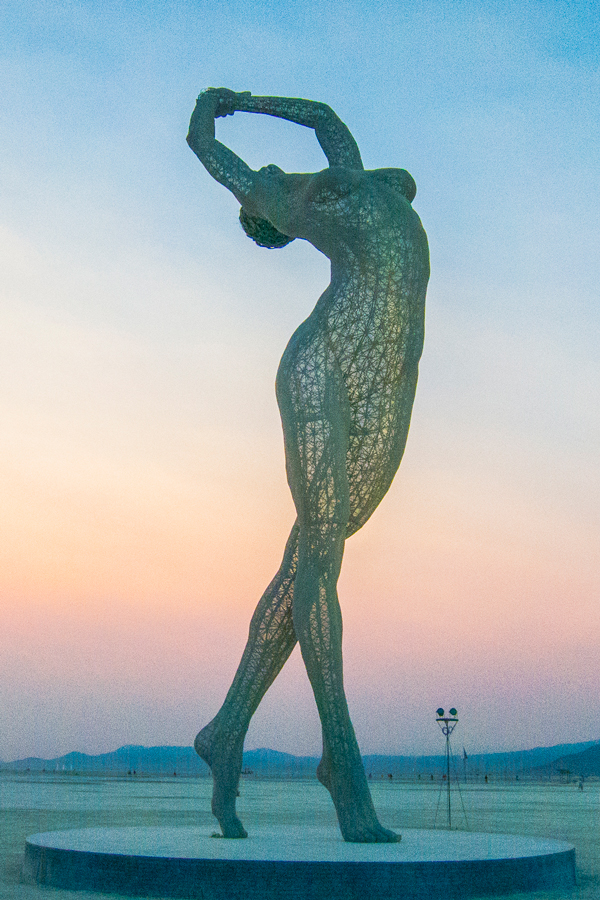 Truth is Beauty by Marco Cochrane
Photo by Barry Toranto
Westlake Urban is learning to tell an important new story about making the world safe for women. In October, in San Leandro, we will install artist Marco Cochrane's monumental Truth Is Beauty, a 55-foot steel sculpture of a female figure, at the San Leandro Tech Campus next to the BART station.
Truth is Beauty is an iconic sculpture that will provide the backdrop for the story of San Leandro's transformation from a manufacturing center to a center of technology and innovation. But it is also ushering in another important and much-needed conversation about the need to create a world where women are safe. Cochrane was inspired to create the sculpture as a tribute to a female friend who survived childhood rape. Over the past year, we have begun to tell this story in groups, both large and small. It has been an amazing storytelling journey that has created connection, controversy, enthusiasm and deep emotional reaction. That's what great stories (and great art) do—they affect us and connect us.
The origin story of Truth is Beauty can be a difficult one to tell. But it must be told and retold—and we must learn how to have uncomfortable, awkward conversations in order to confront the issue and motivate real change. Just like the story of the ENIAC six, whose story can now provide powerful inspiration to women—and men—whose stories have yet to be told.
What kind of stories do you want to hear that aren't being told?
Keep telling your stories, and share your thoughts with us on Facebook, LinkedIn and Twitter. We want to create a space where all voices are given the chance to be heard and where new stories succeed and new myths are born about a safer, more equitable future.
Tags: ENIAC, Jonah Sachs, Public Art, Story Wars, Truth is Beauty, Westlake Urban