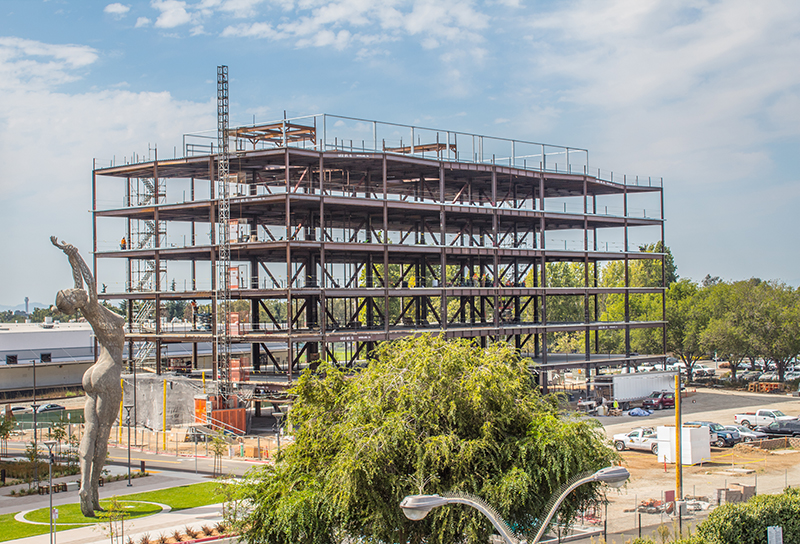 Photo: JLL
October 2017 marks the one-year anniversary of the grand opening of Phase One of the San Leandro Tech Campus (SLTC), a 132,000 sq. ft., LEED Gold certified, Class A office building located next to the San Leandro BART Station. Hundreds of people attended the grand opening celebration, which shined a spotlight on the City of San Leandro's transformation as a connected, 21st-century innovation ecosystem and a springboard for technology, manufacturing, and advanced manufacturing businesses. The event vividly illustrated that San Leandro is in full growth mode, and that its leaders have a strategy to create the ideal city for future generations.

The 7.3-acre, state-of-the-art technology campus is a striking contrast to the old Del Monte cannery that occupied the space for more than a century. The cannery closed soon after the Loma Prieta earthquake, and the property sat vacant, waiting out a series of economic downturns for the right opportunity for redevelopment.
Now fully occupied by San Leandro's largest private tech company, OSIsoft, SLTC Phase One sits at the heart of an amenity-rich campus that is alive with activity.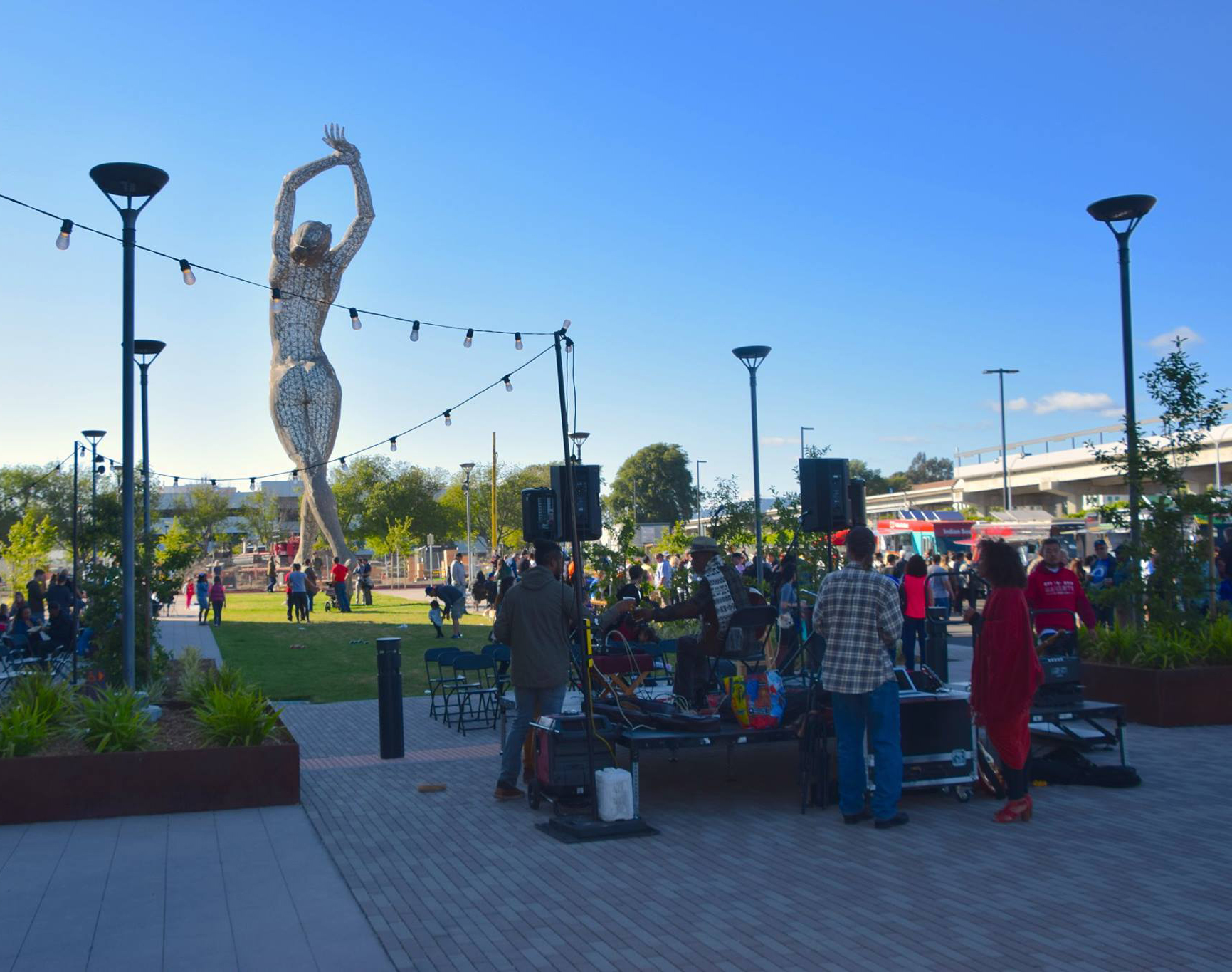 Photo: San Leandro Improvement Association
On weekdays, OSIsoft employees and visitors can be seen commuting from BART, biking to work, and strolling the campus. In the evenings, visitors flock to the new public plaza at foot of Truth is Beauty, Marco Cochrane's monumental sculpture, for special events, like the monthly Truth Thursday food truck events organized by the Downtown San Leandro Improvement Association and Off the Grid. On weekends, pilgrims make their way to SLTC by bike and BART to take selfies and spend time in the presence of Truth is Beauty, of one of the Bay Area's most iconic, meaningful works of public art.
"The Tech Campus broke the ice. It's changed market perceptions of the city, because just a few years ago, no one would have thought new Class A offices would come to San Leandro." – Gregory Tung, Principal, Freedman Tung + Sasaki Urban Design
SLTC is a welcome, welcoming addition to downtown San Leandro, and it is just the first of a series of buildings that will continue to redefine San Leandro as an ideal place to live and work.
Introducing SLTC Phase Two
Earlier this year, Westlake Urban, the development arm of Westlake Realty Group, began construction on SLTC Phase Two, the second, Class A office building to occupy the campus. Like Phase One, Phase Two features a new, institutional quality building with 132,000 sq. ft. of flexible office space and state-of-the-art, innovative building design. The LEED Gold certified building integrates energy-efficient, cost-saving operational technologies that support increased productivity and profitability for tenants. Other amenities include on-site security, secure parking and bike parking, excellent views, and the fastest broadband speeds in the nation.
SLTC Phase Two is available for lease through Westlake's brokerage partner, Jones Lang LaSalle. It will be ready for occupancy by the summer of 2018.
Photo: JLL
Up Next: Housing
Westlake Realty Group is committed to investing for the long term as we transition properties for the next generation. As the Bay Area grows, businesses want to locate near public transit, and millennial workers want to work and live in transit-oriented, amenitized settings, which is why we made the decision to augment SLTC with housing.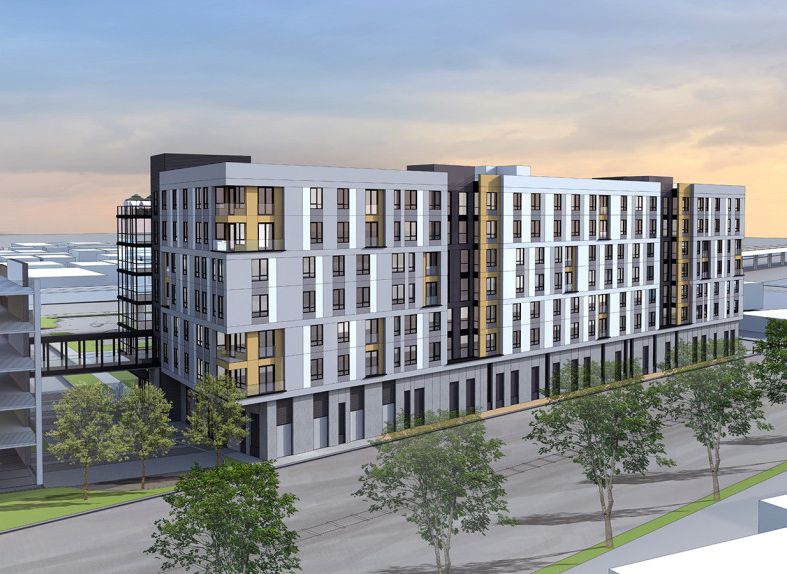 Photo: RMW
Our proposed housing project, which was unanimously approved by the San Leandro City Council, includes 197 housing units and a new, six-story parking structure at SLTC. The 220,638 sq. ft. project includes 42 studio, 114 one-bedroom, and 41 two-bedroom apartments for rent and 13,024 square feet of commercial space. The project will feature accessible walkways, bike paths, and easy access to public transit. Other amenities include a roof deck, a 1,173-square-foot storage space for up to 100 bikes, and two new courtyards totaling 4,182 square feet. Construction is expected to begin in mid-2018.
Bullish on San Leandro
Once a 20th century manufacturing powerhouse, San Leandro has undergone a remarkable resurgence in recent years. The city is well-located and transit-rich, and its high-speed fiber optic loop, Lit San Leandro, provides internet speeds that are thousands of times faster than the average U.S. internet connection. San Leandro offers more affordable options for companies to lease space and for employees to live.
"One of the best things about San Leandro is it has a small-neighborhood feel. It is a city with 90,000, but still feels like a small city with strong neighborhoods." – San Leandro Mayor Pauline Cutter.
The city is now home to the world's largest 3D printing coalition at The Gate 501, a former auto factory. Trammel Crow is developing 553,200 sq. ft. of Class-A industrial space for high-tech manufacturing, assembly, and distribution at the San Leandro Business Center. And Ghirardelli Chocolate has been headquartered in San Leandro since the early 1960s.
San Leandro has everything a business need to compete in the 21st century, without the high cost of living, congestion, and housing shortage that confront many Bay Area cities.
Westlake is proud to be part San Leandro's historic transformation, and we're thrilled by the opportunity to develop Class A office space, housing, parking, and public space. The old Del Monte cannery was an ideal fit for the 20th century, and a transit-oriented, technology-focused, campus is the ideal fit for the 21st century. Soon, we will be back before San Leandro's planning commissioners to propose SLTC Phase Three, a mixed-use project with a hospitality component.
Watch this space…