The new San Leandro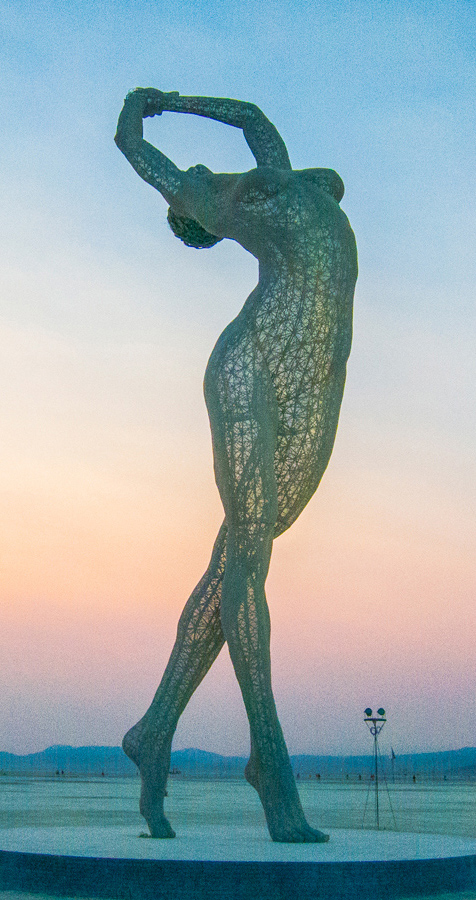 Truth is Beauty by Marco Cochrane
Photo by Barry Toranto
She is the icon of San Leandro's transformation. Graceful, strong, proud, and reaching toward the future, she imagines a world that is bright and bold, limitless and safe.
Truth is Beauty, the 55-foot steel and LED sculpture by artist Marco Cochrane first displayed at Burning Man in 2013—to be installed at the San Leandro Tech Campus next to the Downtown San Leandro BART station in the summer of 2016—will symbolize San Leandro's profound transformation from an industrial past to a center of innovation and technology.
In 2012 City leaders partnered with Dr. J. Patrick Kennedy, founder of local software company OSIsoft, to modernize San Leandro's communications infrastructure. The fiber loop is part of the foundation to attract a new generation of companies to San Leandro, which now boasts the fastest broadband in the nation and a robust fiber optic network throughout the community.
The high-speed fiber optic network has become a springboard for new and growing technology businesses that create quality jobs. With the fastest internet speeds in the country, the city has already become home of the world's largest 3D printing coalition housed under one roof at The Gate, 350,000 square feet of work spaces on the second floor of a former auto factory. Other recent developments include 21st Amendment, a microbrewery that recently chose San Leandro as its new home and modernized and repurposed a 200,000 square foot former cereal plant.
TRANSFORMATION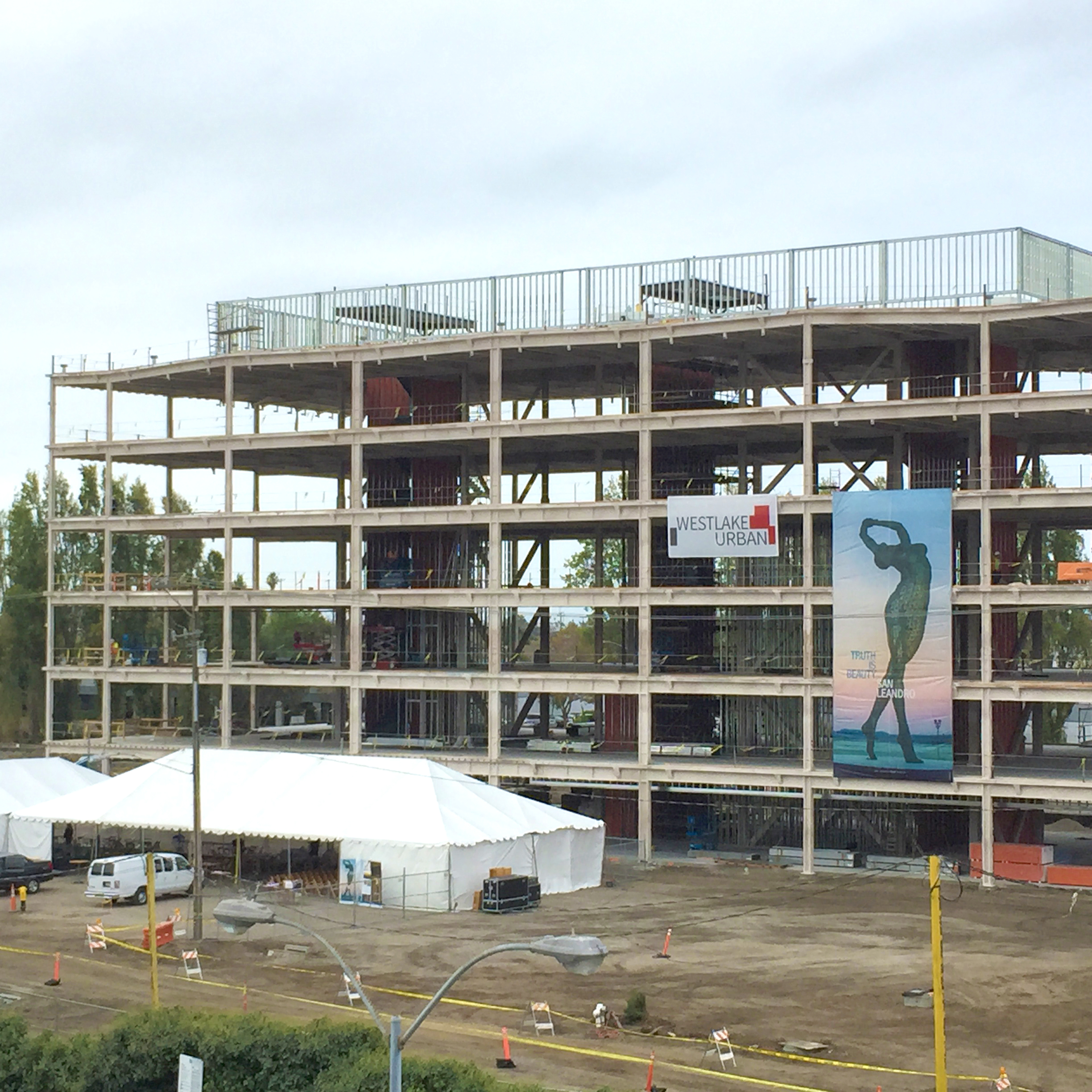 Public art, innovative technologies, transit and safe, people-focused places are key ingredients to successful economic, environmental and social transformation. On September 29, 2015, Westlake Urban spearheaded a daylong conversation about these issues under our big tent on the construction site of the San Leandro Tech Campus. The day began with a celebration of the topping-off of Phase I of the Tech Campus, a 132,000 square foot, six-story Class A office building that will house the future world headquarters of OSIsoft. The celebration was followed by TRANSFORMATION, an event that brought together a diverse group of speakers, visionaries and participants including City officials, BART representatives, prominent urban designers and Burning Man artists to talk about the transformation now taking place in San Leandro.
It was an ambitious conversation. We celebrated the hard work and leadership that contributed to the vision for San Leandro's downtown. We highlighted San Leandro's distinct advantages as the Bay Area's newest technology ecosystem and we discussed the importance of Truth is Beauty's message about the safety and equality of women. We were all challenged to think deeply about the economic and social benefits of workplaces free of barriers for women, and we were all encouraged by examples of communities that have embraced the "power of the possible." The events of the day exceeded our expectations in every way possible. We are grateful to the speakers and the participants, for the connections we shared and the energy and commitment we felt from the community.
Thinking + making
"San Leandro has always been a place that made things with its long history of industrial manufacturing. The 21st century has ushered in new ways of making things with innovative technologies and, once again, San Leandro's industrial land is being transformed from a 20th century workplace to an important 21st century hub of creativity, innovation and jobs." —Gregory Tung
The TRANSFORMATION event kicked off with Gregory Tung, Principal, Freedman Tung + Sasaki Urban Design, who spoke about the opportunity that has been created by the San Leandro Tech Campus. "The Tech Campus broke the ice. It's changed market perceptions of the city, because just a few years ago, no one would have thought new Class A offices would come to San Leandro."
Greg shared a vision of what the city could achieve by focusing on the properties in the vicinity of the Tech Campus and the San Leandro BART station. Transit-oriented commercial development serves as an important catalyst to drive residential and mixed-use development around it. As Greg put it, "We have a very special and rare commodity here in San Leandro; large workplace sites that are right next to a BART station with a downtown right next door with great amenities. That's something that you can't find in the Bay Area. And it's really important to make the best of that for San Leandro."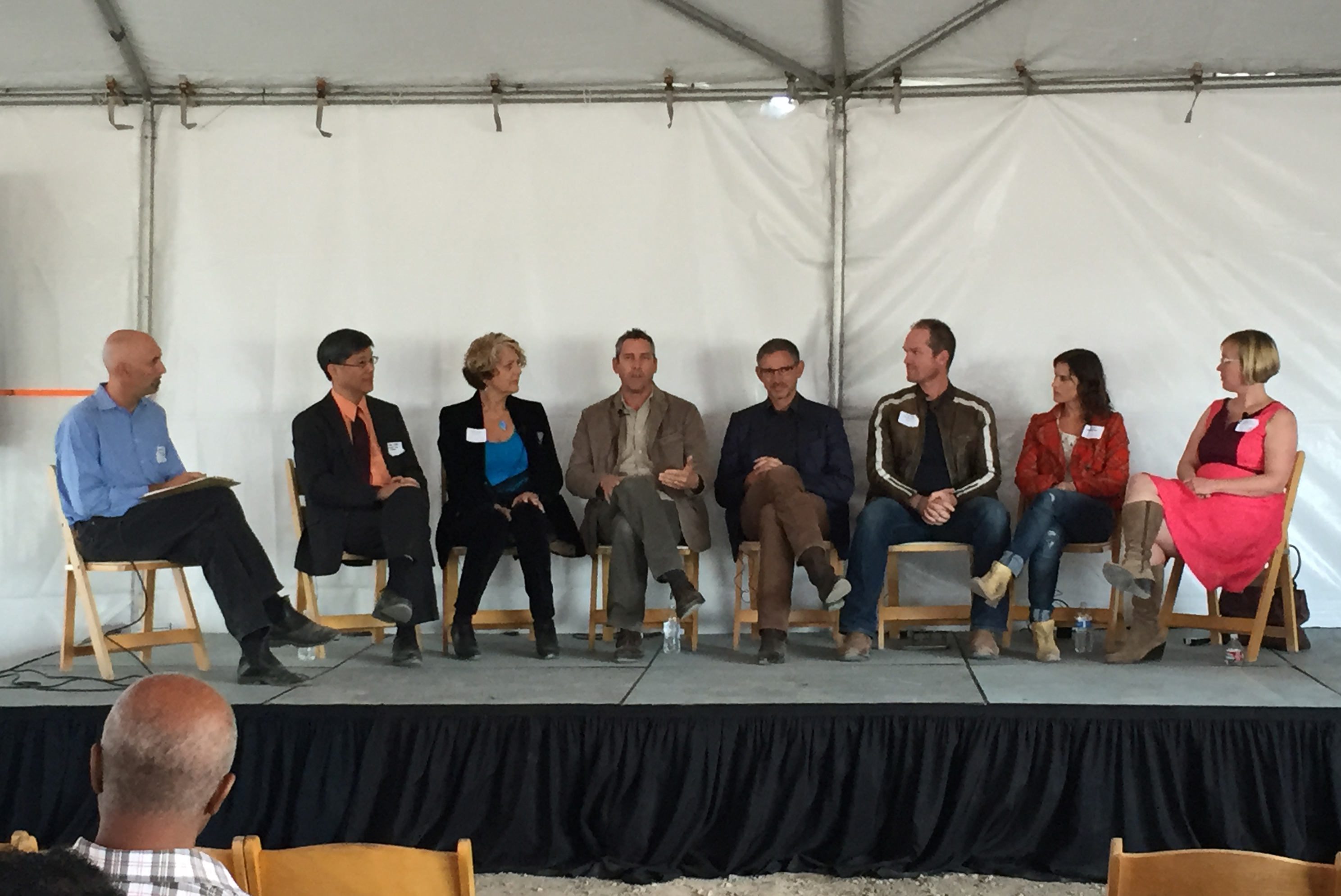 The power of the possible
"And as the sun was coming up behind it, it struck me that it didn't have to be just a bridge––it could be a canvas of light. There was a way to let it shine in the region's consciousness again." —Ben Davis, Founder and Chief Visionary Officer, Illuminate the Arts
Such opportunities are hard to come by, and even harder to execute. But Ben Davis, the visionary behind The Bay Lights, the world's largest LED light sculpture located on the Bay Bridge, inspired and challenged the audience to exercise the "power of the possible." Ben shared the story behind The Bay Lights project, emphasizing that it was "considered impossible on three levels—impossible to permit, impossible to design with the existing technology, and impossible to privately fund completely."
"The reality is, the system is designed to say no, but people have the power to say yes. When we align our interests and our energies, when we focus on the thing we want to see happen, when there's a purpose and a meaning that transcends individual interests and moves to collective and shared interests, there are ways to make things happen."
According to Ben, works of public art, like The Bay Lights and Truth is Beauty, "help us see ourselves in a better light and for the rest of the world to see us the same way. It creates a sense of generosity among us, making new possibilities happen."
As San Leandro forges its new identity, it will be important to maintain this sense of generosity. But it won't be easy.
"We're exercising an important muscle right now through the exercise of collaborative art. I think we should not lose track of the importance of what we're doing, nor the need to continue to apply ourselves in meaningful ways towards common and important ends."
"My challenge to this group is to use the power to say yes… to overcome the natural inclination for the system to say no." —Ben Davis, Founder and Chief Visionary Officer, Illuminate the Arts
The meaning of the artwork
The moment we saw her, we knew that Truth is Beauty would be an amazing complement and catalyst to the work that San Leandro as a community is doing to reinvent itself as a center of innovation and technology. The piece is stunning and bold and will, like all great works of art, ignite important conversations.
Truth is Beauty is an expression of self-acceptance and self-love by a woman who is safe, human, powerful and beautiful. She is also about the safety of women. Marco, at 7 years old, was deeply affected by the rape of his best friend, a 9-year-old girl. As his artistic expression evolved, he realized his life's mission: to create art that challenges the viewer to see past the physical form of the female body, to the human being.
"I was blown away today by how developers, realtors and city officials really get an art piece and really get the meaning behind that art piece and how that can actually change a community and change the way people think. I haven't seen anything quite like this before." —Tomas McCabe, Executive Director, Black Rock Arts Foundation (Burning Man)
"If women didn't have this stuff weighing on them, imagine what else they could create." —Deborah Acosta, Chief Innovation Officer, City of San Leandro
The monumental sculpture was first displayed in its final form at Burning Man in 2013 and immediately amazed the audience with its scale, engineering, and the artistry of the piece. It also inspired the community with the artist's profound question inscribed on the base of the statue: "What would the world be like if women were safe?" The sculpture and this exceedingly important question have created opportunities for long-overdue and difficult conversations about violence against females as well as questions regarding gender imbalances and equal opportunities in the workplace.
Deborah Acosta, San Leandro's Chief Innovation Officer, delved into these questions and spoke about the systemic and cultural challenges that face all women in the United States and throughout the world, and—particularly relevant to the Bay Area—how those challenges relate to attracting and retaining talent in technology companies and related industries. According to Deborah, 56% of experienced women in technology professions leave the industry for other pursuits—twice that of men. If current trends continue, by 2018 the IT industry will only be able to fill half of its available jobs.
The San Leandro Tech Campus offers a place to share the message of Truth is Beauty in an environment that encourages the success of women in technology. Marco and his wife, Julia Whitelaw, shared their excitement about Westlake Urban's commitment to advance Truth is Beauty's message, and they were encouraged that the art piece has already created opportunities for people to talk about the issues the sculpture represents. Marco shared, "As frustrating as it has been to have done this work for so many years without and getting any traction, Truth is Beauty is drawing people together to look at an issue that's hard to look at."
Connecting by design
At Westlake Urban, we are committed to investing for the long term as we transition properties to be more urban, connected, diverse and environmentally focused. This long-term view also applies to our intent to curate meaningful works of public art that inspire and enliven the communities where we invest.
We are honored to participate in the transformation that is taking place in San Leandro.
We welcome you to join the conversation. Visit the TRANSFORMATION website, follow us on Facebook, Twitter, or LinkedIn and stay tuned for the official installation of Truth is Beauty taking place in mid-2016. We would love to see you there.
Tags: Bay Lights, Ben Davis, Burning Man, Greg Tung, OSIsoft, San Leandro Tech Campus, Transformation, Transit, Westlake Urban